Over- and underpressure in process industry and at handling of liquids/gases requires general control.
Our partners are USA-based companies Continental Disc Corporation and Groth Corporation, companies of a common group, which manufactures safety products for tanks, for pressurized equipments and for pipe systems.
RUPTURE DISCS– Continental Disc Corporation – CDC (PDF)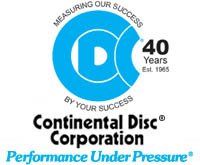 For more than 50 years, Continental Disc Corporation has manufactured metal rupture discs for gas and liquid systems; the range also includes graphite rupture discs.
Comprehensive solutions are available – rupture discs with seals, holders and monitoring indicators.
Tite-Seal and Screw Type-products with holders are intended for protection of so-called mini-systems.
The product range also includes explosion membranes, ventilation frames for dust bunkers and drying kilns.
Brands: STANDARD Type, COMPOSITE Type, MICRO X , Enviro-Seal, Tite-Seal, Tanksert, ULTRX, MINTRX, STAR X, SANITRX, LOTRX, RCS, CAL-VAC, POS-A-SET, Icon Rupture Disc, Vent Panel, HPX
HPX Rupture Discs Family is the most advanced line of rupture discs available in field today.
TANK SAFETY EQUIPMENT– Groth Corporation (PDF)

Groth Corporation - a company established in 1960 as manufacturer of so-called "breathing" valves - is presently one of the largest manufacturers of over-/underpressure valves in the USA. The products are intended for balancing of atmospheric pressure and the internal pressure of large tanks and containers (or a manufacturing process), allowing containers and systems to "breathe".
The product range includes:
Pilot Operated Pressure/Vacuum Relief Valves,
Pressure / Vacuum Relief Valves,
Vacuum Relief Valves,
Emergency Pressure Relief Valves, Flame /
Detonation Arresters,
Blanketing Gas Regulators,
Digester Cover Equipment,
Valve Testing Equipment, etc.