PSI (PIPELINE SEALS & ISOLATORS) – ACCESSORIES FOR PIPELINES
Categories:
- Link Seal® ja Compakt Seal – modular and compakt wall penetration seals
- Sertified rubber gaskets for gaslines and waterlines
- Flange Isolation Sets – dielectrical gaskets, collars, washers for insulation as well as sealing purposes
- Polypropylen Insulators (DSI system) – applicable in the installation of pipelines when the carrier pipe runs inside a casing
- Corrosion resistance compounds and anti corrosion tapes
- Wall sleeves and collars
- Plastic foam made "Pipe Pigs" for cleaning and dewatering of pipelines
EXPANSION JOINTS AND BELLOWS – MACOGA
(PDF1) (PDF2) (PDF3) (PDF4) (PDF5)

Expansion joints allow pipelines to move dynamically without breaking and reduce vibration.
Categories:
- metal expansion joints
- rubber bellows
- plastic (PTFE) expansion joints for chemical product pipe systems
- textile expansion joints for fume channels
The products comply with the principal acknowledged quality standards and are certified.
NORMACONNECT® PIPE CONNECTORS WITH RUBBER SEALS– NORMA Germany (PDF)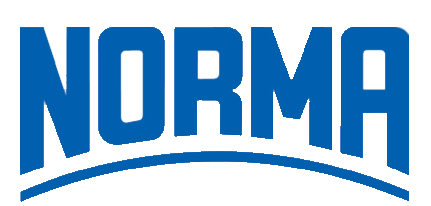 Normaconnect® pipe connectors ensure:
minimum time of connection of the pipe system
vibration compensation
quick repair of pipe leakages with repair connectors
Used often in ships.
Product categories:
GRIP / GRIP E - connectors with anchoring rings, prevent axial movement
FLEX / FLEX E – connectors enabling axial movement
FLEX 3 – connectors enabling axial movement with wide band
REP E – repair connectors
PLAST GRIP / PLAST GRIP E – for connection of plastic pipes
COMBI GRIP / COMBI GRIP E – for connection of metal pipe with a plastic pipe
The applied rubber seal materials are NBR (oil-resistant), EPDM (water-resistant) and FKM (chemical-resistant, high temperature resistance).
Normaconnect® RFP connectors with heat-resistant cover material are available (PDF)
The products comply with the principal acknowledged quality standards and are certified.
Products in stock:
GRIP E connectors of type W2 with EPDM and NBR rubber seals.
SERTO
SERTO manufactures the unique radial tube union system in stainless steel, brass, steel and offers a wide range of valves and PVDF /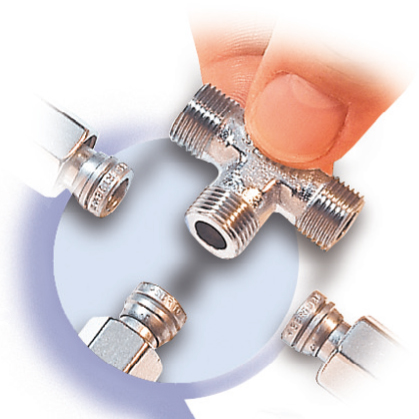 PA-fittings. Easy mounting: no needs for special assembly tools, no O-rings required, Serto uses s.o. "flat seal" system. Thanks to radial mounting there is no need for curves, which makes the mounting expensive and takes more time. Serto uses a compression ferrule, which does not cut into the pipe. With compression ferrule you can use pipes with thinner wall thicknesses. More than 10 000 different fittings are available from Serto stock in Switzerland. Online katalog

EXMAR STAINLESS STEEL PIPE CONNECTORS FROM AISI 316Ti (PDF)

Available at order. Catalogues by request.
FLANGE SEALS – see SEALS AND SEALING MATERIALS